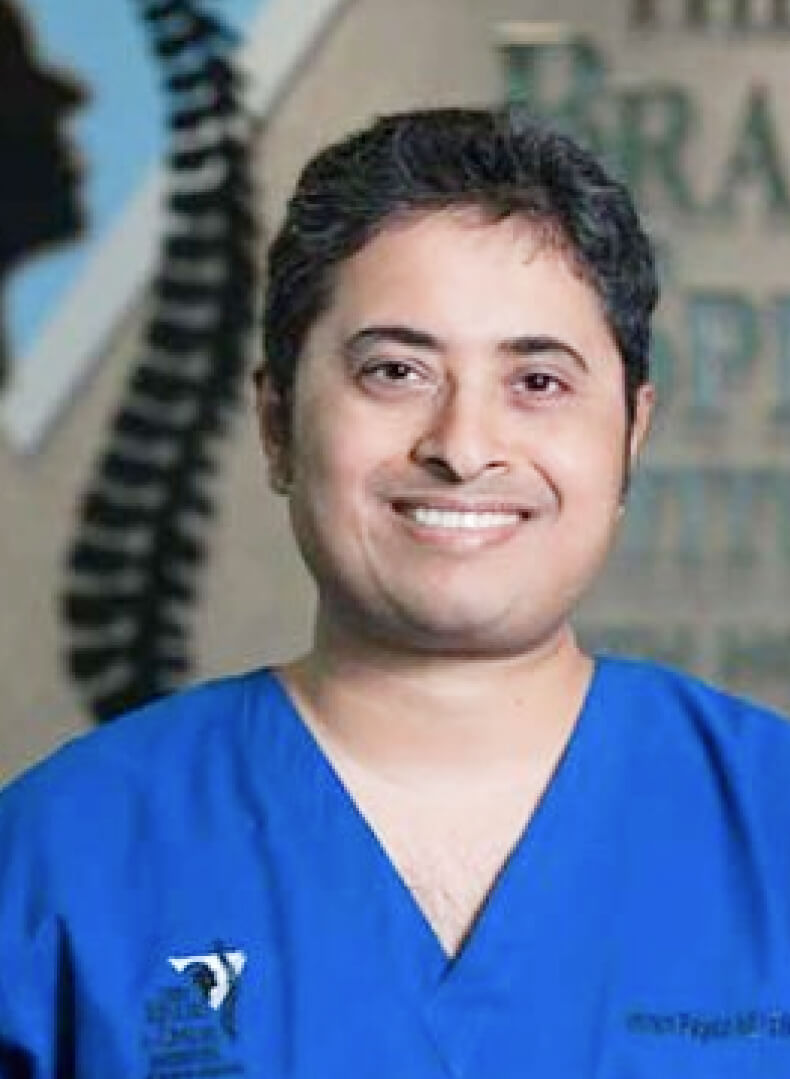 Imran Fayaz,

MD MSc FRCSC FACS
Dr. Fayaz is an experienced, double board-certified neurosurgeon who specializes in relieving back and neck pain through surgical treatments of herniated discs, spinal stenosis, degenerative disc disease, spinal deformities, trauma, and infections, spinal tumors, and other spine conditions. He also specializes in the surgical treatment of brain tumors, bleeding, and trauma. Dr. Fayaz established The Brain and Spine Institute of North Houston now located on the HCA Conroe Medical Center campus in 2009.
Dr. Fayaz performs surgery on the nervous system. His focus is on the diagnosis, surgical treatment, and recommendations for nonsurgical treatment and rehabilitation for disorders of the brain, spinal cord, spinal column, and peripheral nerves. He is fellowship-trained and board-certified in neurological surgery in the United States and Canada.
Since Dr. Fayaz established The Brain & Spine Institute of North Houston, he has provided neurological surgical care for thousands of patients. His practice covers all aspects of general neurosurgery and spine surgery and serves the North Houston area communities of The Woodlands, Conroe, Tomball, Spring, Willowbrook and Kingwood; however, Dr. Fayaz sees patients seeking relief from all over the country.
Dr. Fayaz completed his undergraduate education at University College and obtained his medical degree with honors from the Faculty of Medicine, University of Toronto. He went on to complete residency training at the renowned University of Toronto Neurosurgical Training Program, including training in Pediatric Neurosurgery at the Hospital for Sick Children in Toronto, Canada.
During his residency, Dr. Fayaz completed research training in the Surgical Scientist Program, obtaining a Master of Science degree from the University of Toronto. This was followed by fellowship training in Neurosurgery at St. Michael's Hospital in Toronto, with a special emphasis on disorders of the skull base, spine and peripheral nerves.
Dr. Fayaz has authored clinical and research publications in peer-reviewed journals.
Certifications
& Memberships
Dr. Fayaz is a board-certified in Neurological Surgery in both Canada and the United States. He holds the following certifications:
Diplomate, American Board of Neurological Surgery
Fellow, The American College of Surgeons
Fellow, Royal College of Physicians & Surgeons of Canada
Dr. Fayaz is also a member of the following professional organizations:
American Association of Neurological Surgery
Congress of Neurological Surgeons
North American Skull Base Society
North American Spine Society
American College of Surgeons
American Medical Association
Texas Medical Association
Harris County Medical Society
General micro-neurosurgery
Minimally invasive brain and spine surgery
Brain tumors
Spine tumors
Hydrocephalus
Stroke and brain hemorrhage
Head trauma and brain injury
Spine trauma and spinal cord injury
Cervical spondylosis and degenerative disc disease
Lumbar spondylosis and degenerative disc disease
Disc herniation, spinal stenosis, and spinal deformity
Cervical spine disc arthroplasty, artificial disc, or total disc replacement
Decompression, instrumentation, and arthrodesis of the cervical, thoracic, and lumbar spine
Publications in

Peer-reviewed Journals
Abstracts
Fayaz I and Fehlings MGManagement of Cervical Instability with Lateral Mass Plates: Early Results in a Prospective Series of 18 Patients Canadian Journal of Neurological Sciences 21(2), S58, 1994

Fayaz I and Tator CHAssessing Traumatic Injury to Axons in an In Vitro Cell Culture System: Preliminary Results Canadian Journal of Neurological Sciences 22(2), S40, 1995

Fayaz I and Tator CHDelineating the Nature of Traumatic Axonal Injury in an In Vitro Cell Culture System: Preliminary Findings Journal of Neurotrauma 12(3), 487, 1995

Fayaz I and Tator CHRegeneration and Dieback Following Acute Neuritic Trauma in an In Vitro Cell Culture Model Journal of Neurotrauma 12(5), 994, 1995

Mackenzie IRA and Fayaz ICentral Neurocytoma: Histologic Atypia, Proliferation Potential, and Clinical Outcome Journal of Neuropathology and Experimental Neurology 57(5), 520, 1998

Hodaie M, Fayaz I, Bilbao J, Muller M, and Muller PJPerforating Tuberculous Osteitis of the Skull Canadian Journal of Neurological Sciences 26(2), S57, 1999

Fayaz I, Hodaie M, and Muller PJConcurrent Extradural and Intradural Meningioma: A Rare Presentation of Acute Spinal Cord Compression Canadian Journal of Neurological Sciences 26(2), S58, 1999

Research Papers
Sattler R, Tymianski M, Fayaz I, Hafner M, and Tator CHVoltage-Sensitive Calcium Channels Mediate Calcium Entry into Cultured Mammalian Sympathetic Neurons Following Neurite Transection Brain Research 719, 239-246, 1996

Fayaz I and Tator CHModeling Axonal Injury In Vitro: Injury and Regeneration Following Acute Neuritic Trauma Journal of Neuroscience Methods 102, 69-79, 2000

Clinical Papers
Fayaz I, Gentili F, and Mackenzie IRAOptic Nerve Sheath Meningioma Journal of Neurology, Neurosurgery, and Psychiatry 67, 408, 1999

Khan I, Fayaz I, Ridgley J, and Wennberg RFactitious Clock Drawing and Constructional Apraxia Journal of Neurology, Neurosurgery, and Psychiatry 68, 106-107, 2000

Evans AJ, Fayaz I, Cusimano MD, Laperriere N, and Bilbao JMCombined Pleomorphic Xanthoastrocytoma-Ganglioglioma of the Cerebellum Archives of Pathology and Laboratory Medicine 124, 1707-1709, 2000

Hospital Affiliation
HCA Houston Healthcare Conroe Regional Medical Center
Request an Appointment Today

in Our Office or Virtually