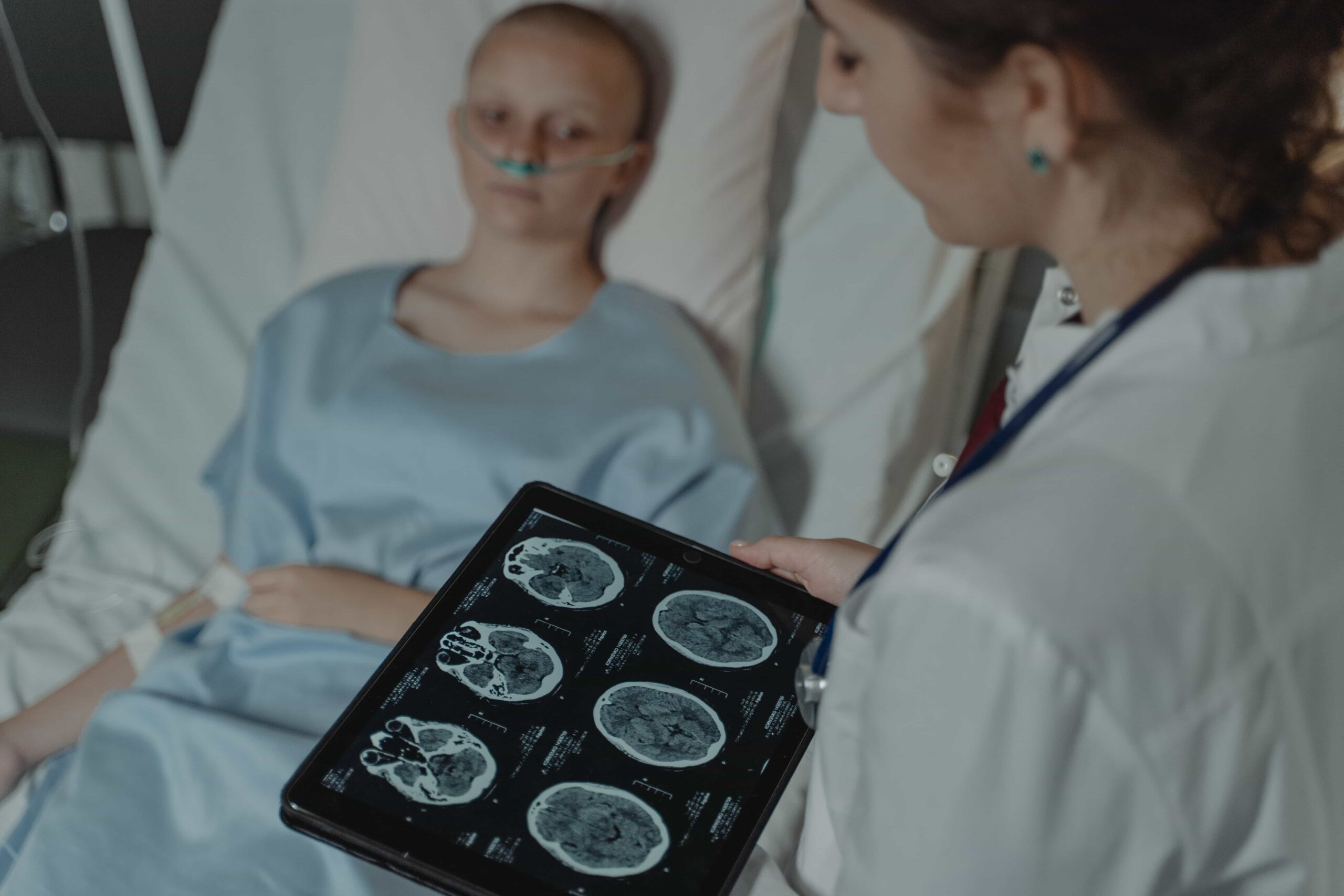 Benign brain tumors are a mass of abnormal cells inside or next to your brain or central spine that can disrupt normal brain function. They can grow and press against healthy brain tissue causing a wide range of problems throughout your body. Brain tumors are classified by the types of cells within the tumor. Each type of brain tumor grows and is treated in a different way.
What are the

symptoms of and treatment for a brain tumor?
Because the skull is rigid and doesn't allow the tumor to expand, brain tumors may press on parts of the brain that control movement, speech, sight, or other vital functions. In some cases, there may be no symptoms. With other tumors, symptoms include:
Double vision
Dizziness and vertigo
Seizures
Sleepiness and lethargy
Speech difficulties
Nausea and vomiting
Hearing problems
Some brain tumors grow slowly and may become quite large before causing symptoms. Others may grow quickly and cause a sudden onset of symptoms.
Although small benign brain tumors are commonly observed, surgery is the primary treatment for benign, non-cancerous growing, and symptomatic brain tumors. Typically, they can be successfully removed with surgery and do not usually grow back if Dr. Fayaz is able to safely remove all of the tumors. Rarely, do some slow-growing non-cancerous tumors grow back years after treatment.
Brain Tumor (Overview)
This is a mass of abnormal cells. It may be inside your brain, or it may be next to your brain. It can grow and press harmfully against healthy brain tissue. This can cause a wide range of problems throughout your body. A brain tumor can severely impact your life.
What are the most common

types of benign brain tumors?
There are over 120 different types of brain tumors, lesions and cysts, which are differentiated by where they occur and what kinds of cells they are made of. Dr. Fayaz specializes in the removal of both benign and cancerous brain tumors. Following are just a few of the most common types of benign brain tumors. Dr. Fayaz also treats less-common types of tumors as well as spinal cord tumors.
Meningiomas
A meningioma is a type of tumor that grows from the protective layer of tissue or membranes (meninges) surrounding the brain and spinal cord. They are the most common primary brain tumor and can occur in any part of the brain. Depending on its location and size, it can cause a wide range of symptoms. As the tumor grows, it can push into the brain tissue and cause more problems. Only about 2-3% of meningiomas are malignant or cancerous tumors.
Most meningiomas are benign and slow-growing. However, some are malignant and aggressive. Surgery is usually the first treatment for meningiomas that grow and cause symptoms. If surgical treatment is necessary, operating on the delicate structures and tissues of the brain requires extreme neurosurgical precision, aided by microsurgical technology. Dr. Fayaz is skilled in cutting-edge, microsurgical techniques. This allows him to operate through the smallest incisions possible, minimizing damage to healthy brain tissue.
Brain cysts (colloid cyst, arachnoid cyst)
Colloid Cysts – This is a benign mass that appears in the third ventricle of the brain. It can block the cerebrospinal fluid pathways, causing headaches and hydrocephalus, or it can be found completely incidentally. It is removed with surgery, especially if it causes hydrocephalus.
Arachnoid Cysts – These are common benign brain cysts that occur in the membranes surrounding the brain and are filled with cerebrospinal fluid. If they present since birth and cause no symptoms, they are often left untreated. If treatment is necessary, the fluid is drained through surgery or shunting.
Pituitary Benign Tumors
Some primary brain tumors can develop in the pituitary gland, a gland that produces many of the body's hormones. The pituitary is a pea-sized endocrine gland located at the base of the brain. If a tumor is present, it can cause hormonal dysfunction, visual problems and headaches. Dr. Fayaz performs surgery on these tumors using advanced and precise methods to remove as much of the tumor as possible without causing neurological deficits. As a specialist neurosurgeon, he uses image guidance to lead his approach and resection of the tumor.
Pituitary Tumor
Your pituitary gland is found just under your brain. This pea-sized gland makes hormones that affect many of your body's functions. A pituitary tumor can cause it to release too much or too little of these hormones. This can cause serious problems.
Dr. Fayaz is a top-rated, highly trained neurosurgeon who specializes in surgically treating spine and brain tumors to deliver the expertise and care you need most. There are many different types of tumors and many ways to treat them. Dr. Fayaz is at the forefront of brain tumor treatment and will work with your neuro-oncologists, neuroradiologists, radiation oncologists, neuropathologists, and medical physicians to come together and surround you with expert care.
If you are in the North Houston, Conroe, The Woodlands, Spring area and believe you need to see a brain tumor specialist for a brain tumor, meningioma, brain cyst, pituitary tumor, or any other type of tumor, call our office at 281-880-0700 to schedule an appointment and consultation with Dr. Fayaz.
Request an Appointment Today

in Our Office or Virtually