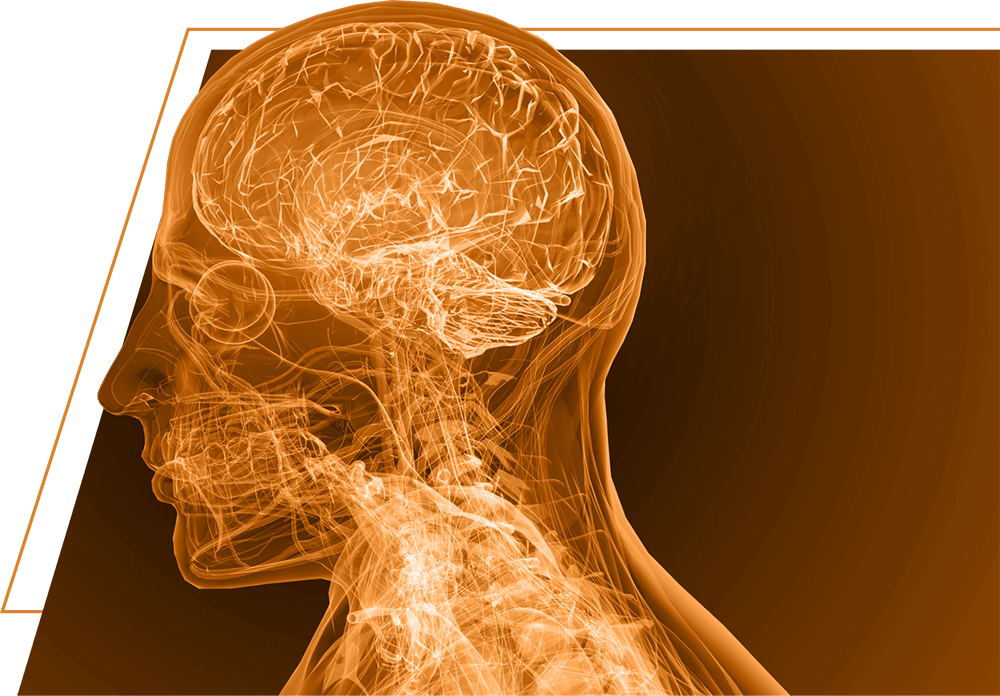 Hydrocephalus is a condition in which excess cerebrospinal fluid (CSF) builds up within cavities or ventricles that surrounds the brain and spinal cord. The term hydrocephalus is a Greek word: "hydro" meaning water and "cephalus" meaning the head, or sometimes called "water on the brain."
Cerebrospinal fluid constantly circulates within the ventricles of the brain and performs three functions. It acts as a "shock absorber" for the brain and spinal cord, a vehicle for delivering nutrients to the brain and removing waste, and it flows between the cranium and spine to regulate changes in pressure.
If this fluid builds up within the brain, it can create harmful pressures on the tissues of the brain confined within the skull. It can occur at any age, but it is most common in infants and adults over 60 or older. Most of the cases seen in children are diagnosed before birth, at the time of delivery, or in early childhood, and it is the most common reason for brain surgery in young children.
Hydrocephalus can be inherited, associated with developmental disorders like spina bifida or encephalocele, or caused by brain tumors, head injuries, hemorrhage, or diseases such as meningitis.
Hydrocephalus
This condition is caused by an increased amount of cerebrospinal fluid (commonly called CSF) in the brain's ventricles. The ventricles are a system of large, fluid-filled open spaces inside the brain. Too much CSF in the ventricles can elevate the pressure in the skull. It can damage delicate brain tissue.
What Are the

Types of Hydrocephalus

and What Are the

Causes?
If hydrocephalus is present at birth it is called "congenital." If it develops over time because of injury or disease is called "acquired."
Congenital hydrocephalus
When babies are born with hydrocephalus or develop it shortly after delivery hydrocephalus may be caused by:
inherited genetic abnormalities that block the flow of CSF
developmental disorders such as those associated with birth defects in the brain, spine, or spinal cord
complications of premature birth such as bleeding within the ventricles
infection during pregnancy such as rubella that can cause inflammation in the fetal brain tissue.
Acquired hydrocephalus
The risk of developing hydrocephalus at any age can be caused by:
brain or spinal cord tumors
infections of the central nervous system such as bacterial meningitis
injury or stroke that causes bleeding in the brain.
What are the

symptoms of Hydrocephalus?
Depending on the age, symptoms vary from person to person. Infants and young children are more susceptible to symptoms from increased intracranial pressure like vomiting and adults can experience loss of function like walking or thinking. Below are lists of symptoms by developmental age:
Adolescents
Nausea and vomiting
Swelling of the optic disc or papilledema
Blurred or double vision
Balance and gait abnormalities
Slowing or loss of developmental progress
Changes in personality
Inability to concentrate
Seizures
Poor appetite
Urinary incontinence
Adults
Headache
Nausea and vomiting
Difficulty walking or gait disturbances
Loss of balance or coordination
Lethargy
Bladder incontinence
Impaired vision
Impaired cognitive skills
Memory loss
Mild dementia
Treatment options
for Hydrocephalus
There are treatment options that can restore normal levels of CSF. However, it may take multiple surgeries to treat hydrocephalus. The most common treatment for hydrocephalus is the surgical insertion of a shunt(tube) system that drains excess fluid and relieves pressure inside the head. A shunt is a long, flexible tube with a valve that allows fluid from the brain to flow in the right direction, at the proper rate and maintaining normal limits. The excess fluid drains into either the chest cavity or the abdomen, and then it is absorbed by the body.
The earlier hydrocephalus is diagnosed, the better the chance for a successful outcome. The longer the symptoms have been present, the less likely it is that treatment will be successful. Some patients will improve dramatically, while others will reach a plateau or decline after a few months. With treatment, many people lead normal and productive lives.
If you are in the North Houston, Conroe, The Woodlands, Spring area and believe you need to see a brain specialist for hydrocephalus or a shunt, call our office at 281-880-0700 to schedule an appointment and consultation with Dr. Fayaz.
Request an Appointment Today

in Our Office or Virtually