HCA Houston Healthcare and Dr. Fayaz Team Up to
Offer the Most Advanced Technologies
The treatment of spinal disorders and brain conditions is quickly transitioning from traditional to advanced technologies using minimally invasive procedures. Dr. Fayaz draws from experience and data to constantly improve his brain and spine surgery techniques to achieve the best possible patient outcomes. To accomplish this, he stays educated and informed and has access to facilities with the most advanced technologies to make sure his spine and brain surgeries are done in safest and most effective manner possible.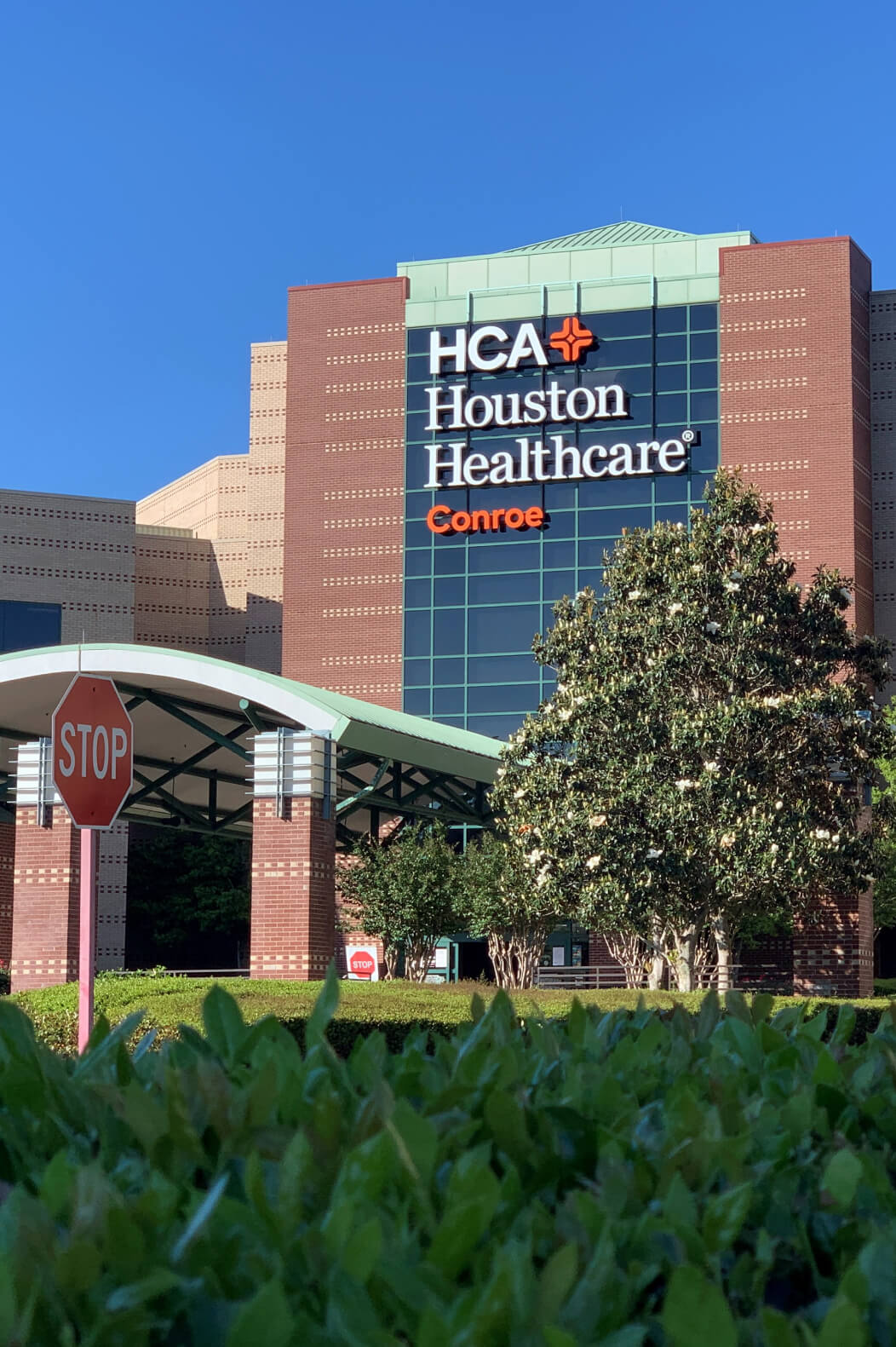 Cutting Edge Technology in
State-of-the-Art Facilities
Dr. Fayaz is proudly affiliated with HCA Houston Healthcare and Medical Center in Conroe and uses the latest techniques and treatments for various brain and spine conditions.
The Stealth Navigation System and the O-Arm imaging device are innovative technologies for intraoperative image guidance and surgical navigation. This technology:
Helps accurately localize the spinal anatomy and pathology
Allows precise placement of spinal hardware – cages and screws
Enhances the safety of spinal surgical procedures
HCA Houston Healthcare Conroe is one of two facilities in the North Houston, Texas area to offer patients this unique and cutting-edge technology.
HCA Houston Healthcare
in Conroe
You can expect the most advanced treatments from The Brain & Spine Institute of North Houston in the comfort and convenience of a comprehensive hospital, close to home, in Conroe, Texas, HCA Houston Healthcare. This facility has been providing high-quality healthcare to the Montgomery County region for more than 80 years. As part of Houston's largest healthcare system HCA Houston Healthcare, this hospital has grown to become a full-service medical center and a tertiary referral center.
As a regional, tertiary referral center, other hospitals rely on us when higher levels of acute care are necessary. HCA Houston Conroe was the first hospital in Montgomery County to achieve the designation of a Level II Trauma Center. They are also a Certified Primary Stroke Center, an Accredited Chest Pain Center, and a designated Level III Neonatal ICU in order to treat for the most vulnerable patients of all ages.
From regenerative treatments to the latest developments in surgery, we believe our patients should have access to the most effective treatments and best facilities available. Our mission is to provide an exceptional level of personal care for our patients and to administer the most technologically advanced treatments to help them enjoy a better, happier, more comfortable quality of life.
If you are in the North Houston, Conroe, The Woodlands, Spring area and believe you need to see a spine specialist for your brain or spine surgery, call our office at 281-880-0700 to schedule an appointment with Dr. Fayaz.
Request an Appointment Today

in Our Office or Virtually