Quick Look: Meet the Doctor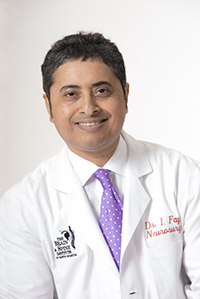 Dr. Imran Fayaz is a neurological surgeon specializing in the management of neck pain, back pain, and other spinal disorders. He completed his undergraduate education at University College and obtained his medical degree with honors from Facility of Medicine at the University of Toronto. He stayed on at the University of Toronto for his internship and residency, completing an elite neurosurgical training program emphasizing all aspects of general neurosurgery and pediatric neurosurgery. After obtaining a Master's degree with research in neurosciences, he completed a fellowship at St. Michael's Hospital in Toronto with a special emphasis on disorders of the spine, skull base, and peripheral nerves. He is board certified in both Canada and the United States, a fellow of the American College of Surgeons, and the attending neurosurgeons, and the attending neurosurgeon at four regional hospitals.
Dr. Fayaz enjoys working in The Woodlands because it has a family-oriented people that are health conscious and educated. He says, "My family and I enjoy a wonderful lifestyle here and have all the amenities we need."

Putting Families First
Being a family man himself, Dr. Fayaz believes in the power of combining expert medical care with proximity to familiar faces and places. His entire practice is built around the philosophy of providing advanced treatment options and excellent customer care without being too far from home – far away from the overwhelming, sometimes impersonal nature of the larger hospitals in Houston's Texas Medical Center.
"It's important to the healing process to have loved ones nearby. Families want to be close to their loved ones and we want to facilitate that as much as possible."
If you or someone in your family is in need of care for neck pain, back pain, or other spinal conditions, we encourage you to contact our office and make an appointment to see Dr. Fayaz.